Please join the Art & Technology Studies Department for an artist talk followed by Q & A with Ani Liu!
March 8th, 4:15pm in the Flex Space MC 400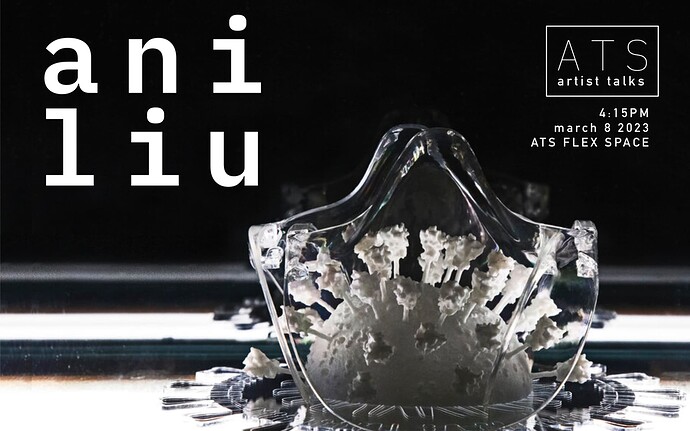 Please email kmcwharter@saic.edu with any questions or accommodation requests.
Learn more about her work here: https://ani-liu.com/
---
Ani Liu is an internationally exhibiting research-based artist working at the intersection of art & technoscience.
Integrating emerging technologies with cultural reflection and social change, Ani's most recent work examines the biopolitics of reproduction, labor, care work and motherhood.
Ani's work has been exhibited internationally, at the Venice Biennale, Milan Triennale, Ars Electronica, the Queens Museum Biennial, MIT Museum, MIT Media Lab, Mana Contemporary, Harvard University, and Shenzhen Design Society. Ani is the winner of numerous awards including the Princeton Arts Fellowship, the New York Foundation for the Arts (NYFA) Fellowship, the Virginia Groot Foundation Fellowship, the S&R Washington Prize, the YouFab Global Creative Awards, the Biological Art & Design Award, Triangle Arts Residency.
Ani's work has been featured in the New York Times, Art in America, Artnet News, the Brooklyn Rail, Hyperallargic, and her solo show in Ecologies of Care was named as a best of 2022 highlight in Artforum. She has been profiled by Science Friday, National Geographic, PBS, the MIT Tech Review, BOMB Magazine, VICE, WIRED, TED and Gizmodo, amongst many others.