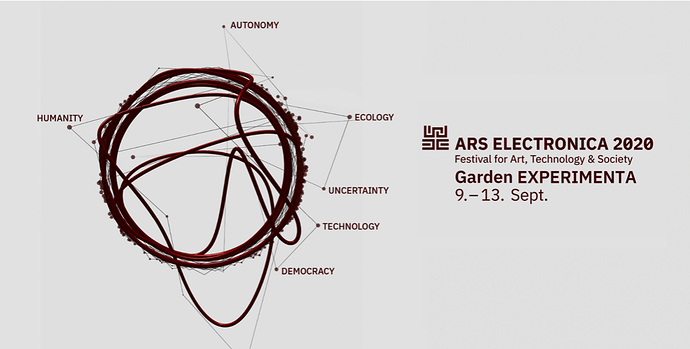 We're very excited to announce our participation in Ars Electronica for the third year. The opening of Ars Electronica will officially start tomorrow, Sept 9. This year's Ars Electronica is represented by a wide body of ATS faculty, alums, and students.
[Dis]position:
Art & Technology Studies at the School of the Art Institute of Chicago
Presented as part of the Ars Electronica Festival for Art, Technology & Society September 9–13, 2020
In September 2020, Art & Technology Studies at the School of the Art Institute of Chicago (SAIC) presents [Dis]position, an online exhibition that brings together twenty-eight artworks by faculty and students affiliated with the program, that collectively reflect on the virtual nature of the Ars Electronica Festival and the increased presence of technology in contemporary life.
[Dis]position features new and existing works in a range of digital media including video, virtual environments, creative coding, and computer vision, including works by full-time Art & Technology Studies faculty members Lee Blalock, Eduardo Kac, Kristin McWharter, and Judd Morrissey.
[Dis]position is a virtual exhibition space that exploits its immaterial status to bring together digital and physical artworks and environments. Folding the map in on itself to fuse distant geographies, [Dis]position underscores the impossibility of a virtual utopia and the urgency of reimagining our collective reality. Using the prefix dis- as an organizing principle, the artworks in the exhibition act as a reversing force, embracing the conditions of physical dislocation to foreground the inherent potential of shared aesthetic experience.
The exhibition is divided into six thematic sections—[Dis]orient, [Dis]connect, [Dis]content, [Dis]place, [Dis]location , and [Dis]possess—each exploring a different layer of our mediated contemporary landscape.
The exhibition can be accessed at: https://disposition.ats.community
The virtual Ars Electronica Festival at: https://ars.electronica.art/keplersgardens/en/disposition/
Curatorial Team: Duncan Bass, Bopha Hul, Patrick O'Shea, Doug Rosman
Website: Doug Rosman