Please Join the ATS department on Thursday, April 13th at 4:15pm in the Flex Space
for an Artist Talk with artist and podcast host Lee Tusman!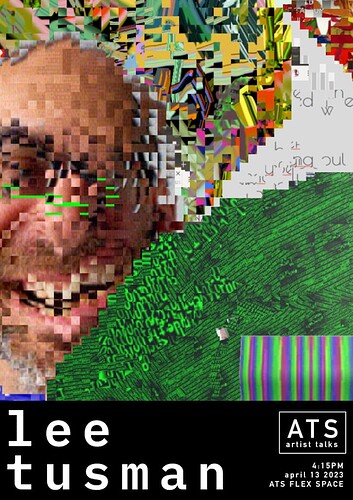 Lee Tusman is a New York-based new media artist and educator interested in the application of the radical ethos of collectives and DIY culture to the creation of, aesthetics, and open-source distribution methods of digital culture. He works in code, interactive media, video art, experimental games, sound art, websites, bots and micro-power radio stations. Currently, Tusman is an Assistant Professor of New Media and Computer Science at Purchase College where he hosts the podcast "Artists and Hackers". Artists and Hackers is a podcast dedicated to the communities that are building and using new digital tools of creation. We talk to programmers, artists, poets, musicians, bot-makers, educators, students, and designers, in an effort to critically look at both online artmaking and the history of technology and the internet. We're interested in where we've been and speculative ideas on the future. Tusman is also an organizer with Babycastles, a NYC-based collective fostering and amplifying diverse voices in videogame culture as well as a collaborator with artist-run community Flux Factory. He co-founded Processing Community Day NYC. He is a past organizer at Hidden City Philadelphia, Little Berlin and KCHUNG Radio.