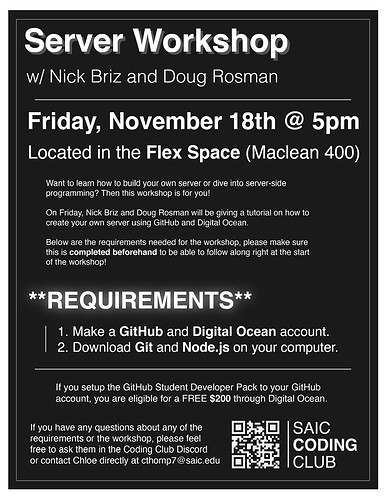 This Friday (11/18) the Coding Club is hosting a Server Workshop! This will start at 5pm in the Flex Space located on the 4th floor of the Maclean building.
There are a few requirements NEEDED to be completed before coming to the workshop! First, you must create a GitHub and Digital Ocean account. Then, you must download Git and Node.js to your computer.
Keep in mind, if you set up the GitHub Student Developer Pack to your GitHub account you are eligible for $200 in Digital Ocean!
Also while it's not necessary, having purchased a domain name beforehand is recommended, a site you can do this on is namecheap.com!
If you have any questions or concerns, please ask them in the SAIC Coding Club or ask me directly at cthomp7@saic.edu!