Please Join us for grad talks on the subject of "Interfaces" with Juan Flores and Yiyi Liu moderated by ATS faculty member Joseph Kramer!
The event will take place at 4:15 pm in the ATS Flex Space.
If you have any questions or accommodation requests, please contact Kristin McWharter: kmcwharter@saic.edu
Join Zoom Meeting
https://saic-edu.zoom.us/j/85124249277
Meeting ID: 851 2424 9277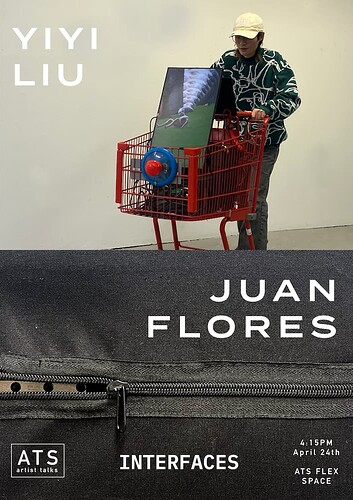 ---
Juan Flores is originally from San Antonio, TX and began to get involved in the arts by taking part in community mural projects around the city. He received his BA in Art from Connecticut College and was part of the Ammerman Center for Arts and Technology. He was the recipient of the Mortimer Hays-Brandeis Fellowship where he focused solely in sound art during his stay in Mexico City for one year, incorporating code and found electronics. Being familiar with travelling between both sides of the US/Mexico borderlands, his work often involves themes concerning migration, wayfinding, in-between spaces, and technological disobedience.
Yiyi Liu is an interdisciplinary artist primarily focused on creating in multi-/new media, game development, glitch art, CG art, motion graphics, sound design, and electronic music. His works are interactive and dynamic, employing cost-effective sensing technology to encourage audience participation and drive content generation. His passion and humor for computers and graphics are fully reflected in his digital theaters/poetry collections.
Inspired by his experiences in creative technology, Yiyi's works draw from the glitches, errors, and overloads he has encountered in digital software, which have become his expressive vocabulary. His artistic practice is informed by a playful and grotesque aesthetic, which he employs to translate his observations and emotional experiences into digital poetry.