Please Join us for grad talks on the subject of Critical Speculations with Mac Pierce, Nimrod, Astarhan, and Kelly Xi moderated by ATS faculty member Garrett Laroy Johnson!
The event will take place at 4:15 pm in the ATS Flex Space.
If you have any questions or accommodation requests, please contact Kristin McWharter: kmcwharter@saic.edu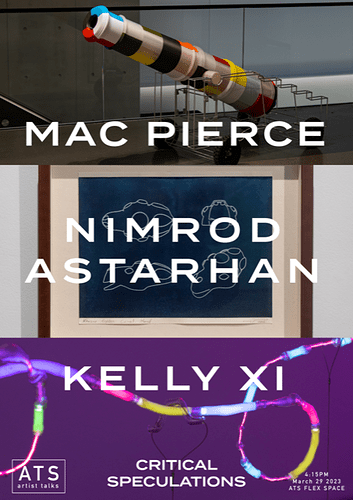 ---
Mac Pierce's work draws from a sense of unease over a topic, and in contemplation he compose a counterpoint in art form. Be that the public deployment of facial recognition systems to the use of computer hacking in warfare. Pierce's goal in these works is to provide a point of entry into these issues through an aestheticization of the elements that compose them.
Nimrod Astarhan is an artist, technologist, and lecturer in the Multidisciplinary Art School at Shenkar College of Engineering, Art and Design where he teaches Digital Art and other specialized trans-disciplinary courses at the intersection of art, digital practices and critical theory. As an artist working in Sculpture and Digital Media he exhibited and initiated group projects in Europe, the US, and the International Space Station and worked on commissioned projects for museums, international festivals and biennales. Recent showings include Ars Electronica, The Ammerman Center Biennial Symposium on Arts & Technology, Die Digitale Düsseldorf and xCoAx in Graz, Austria among others. Recipient of the Rabinovitch Foundation for the Arts grant. Nimrod is a recent graduate of the Saas-Fee Summer Institute of Art and is currently affiliated with the Art and Technology Studies department at the School of the Art Institute of Chicago.
Kelly Xi is an artist, writer, and designer who critically leverages the tools of machine learning, game engines, digital ceramics, and neon to embed audiences in material-relational visions for livable futures. Her work engages intimately with the emissive materiality of digitization. Her research interests wade the petro-porous condition we share with extrahuman life and culture an embodied stake in mutual survival via the gut, "waste", and wavelength.
Kelly Xi is a transplant of Baotou, Inner Mongolia, the world's largest supplier of rare earth metals powering illuminant technologies, screens, mobile devices, turbines, and electric engines. Her hometown is the site of the Baogang Tailings Dam, a radioactive cesspool visible from space, operated by the Bayan Obo mine. In 2021, her biodesign work on the mycelial biopolymer PermaPak won the Barilla Prize for Regenerative Living Ecosystems and was published in Issues of Science and Technology.