Dear ATS Community,
Please join us for our first in a series of four spring ATS grad talks. Reid Arowood and Yuwen Huang will present their work and practice, jointly exploring themes of virtuality, embodiment and perception. The event will be followed by a Q & A moderated by Doug Rosman.
Where: ATS Flex Space (MC 400)
When: Tuesday, 2023-03-14T21:15:00Z
**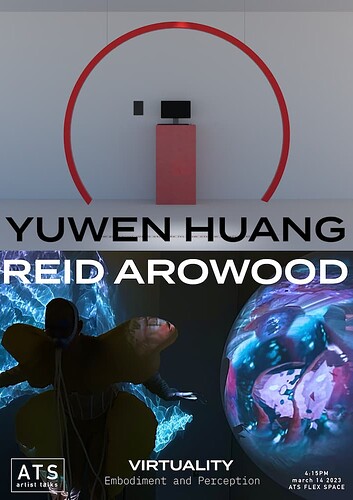 Reid Arowood uses interactive performance and installation to explore the altered and technologically augmented body. Their research comes from a place of obsession and a desire for control over their own physical form as well as the expectations and perceptions of their body and identity. Fusing elements of performance, sculpture, installation, and new media, Arowood creates a multi-sensory experience where viewers become specimens and are encouraged to interact, smell, and even ingest elements of the work. The resulting work creates a visceral and disorienting experience for the viewer, prompting them to question the perception of their own body and blur their distinction between the digital and the physical. Their work has been exhibited in a range of festivals, conferences, and exhibitions including Biotransmutations (NYC), Filmgate Interactive Media Festival (Miami), Art in Odd Places festival (NYC), the 6th International Exhibition on New Media Art (Seoul), WERQ: We've Been Doing This Our Whole Lives (NYC), Ars Electronica Festival "Worlds in Progress" (Linz) and the 2022 New Media Caucus Symposium and Exhibition. Arowood received their BFA from the University of Tennessee and is in the current process of earning their MFA in Art and Technology Studies at the School of the Art Institute of Chicago.
Yuwen Huang is a second-year graduate student from Shenzhen, China. She received a Bachelor of Arts in Intermedia Art from China Academy of Art (CAA in Hangzhou, China) and participated in various exhibitions in China. Rather than emphasizing the superficial aspects of traditional culture, Yuwen uses her practice in traditional Chinese philosophy, such as Taoism and I-Ching, to create digital media art that explores the relationship between nature and technology. By drawing connections between the perspective of traditional cultures and prospective technological thinking, Yuwen presents the future through the ideas of the past. Her work is concerned with the interconnectedness of all things and their connection to our inner experiences. As part of a new generation of cultural inheritors, she seeks to express her understanding and experience of traditional culture through art and technology. As part of her creative process, she continues to explore different media, creating digital artworks such as interactive installation, net art, video installation, gan-generated videos, blockchain, etc.