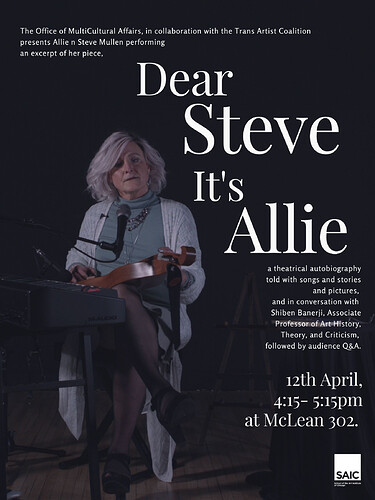 Dear Steve . . . it's Allie
Wednesday, April 12, 4:15–5:15 p.m.
MacLean Center, 112 S. Michigan Ave, room 302
The Office of MultiCultural Affairs, in collaboration with the Trans Artist Coalition, presents Associate Professor, Adj. Allie n Steve Mullen performing an excerpt of her piece, "Dear Steve . . . it's Allie," a theatrical autobiography told with songs, stories, and pictures, and in conversation with Associate Professor Shiben Banerji, followed by audience Q&A. While the piece engages difficult questions of desire, identity, race, community, and solidarity, "Dear Steve . . . it's Allie" is, at its core, a musical work of integration, both personal and cultural, as Allie n Steve challenges the notion that the trans experience is simply a transition from one identity to another, but rather a work of constant balance and harmonic tension.