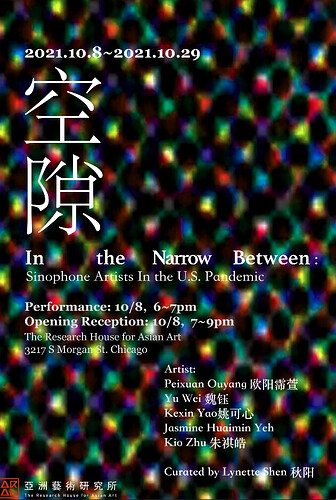 MARK YOUR CALENDAR!
𝘐𝘯 𝘵𝘩𝘦 𝘕𝘢𝘳𝘳𝘰𝘸 𝘉𝘦𝘵𝘸𝘦𝘦𝘯 (空隙) : 𝘚𝘪𝘯𝘰𝘱𝘩𝘰𝘯𝘦 𝘈𝘳𝘵𝘪𝘴𝘵𝘴 𝘐𝘯 𝘵𝘩𝘦 𝘜.𝘚. 𝘗𝘢𝘯𝘥𝘦𝘮𝘪𝘤
Curated by Lynette Shen 秋阳
The Research House for Asian Art
Oct.8th - Oct.29th, 2021
Hours: Tuesday to Sunday, 11 AM - 5 PM
(DM Instagram or email for appointment)
Performance (REM by 朱祺皓 Kio Zhu): Oct. 8th, 2021, 6-7pm
Opening Reception: Oct. 8th,2021, 7-9pm
The Research House for Asian Art presents 𝘐𝘯 𝘵𝘩𝘦 𝘕𝘢𝘳𝘳𝘰𝘸 𝘉𝘦𝘵𝘸𝘦𝘦𝘯: 𝘚𝘪𝘯𝘰𝘱𝘩𝘰𝘯𝘦 𝘈𝘳𝘵𝘪𝘴𝘵𝘴 𝘐𝘯 𝘵𝘩𝘦 𝘜.𝘚. 𝘗𝘢𝘯𝘥𝘦𝘮𝘪𝘤, an exhibition curated by Lynette Shen to explore memories, cultural aphasia, and diasporic displacement in the Chinese-speaking community. The exhibition features five Chicago-based artists, who work in film, video installation, bookmaking, performance, and sculpture in response to their experience during the pandemic.
You are kindly invited to join us on 10/8 (next Friday), 6-9pm for the performance and the opening reception.
Address: The Research House for Asian Art, 3217 S Morgan St. Chicago